Hello! Welcome to BlueSky Ecology
BlueSky Ecology is a small ecological consultancy based in South Devon. We provide high quality ecological services to a range of clients including developers, architects, local authorities and landowners.
We work hard to ensure our fees are competitive and as a small business we are able to provide a bespoke, personal, solution based service that will enable wildlife and development to co-exist.
About us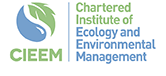 Our principle ecologist, Bryony Gillett MSc ACIEEM holds a Natural England survey license for bats and is an associate member of the Chartered Institute of Ecology and Environmental Management (CIEEM). Bryony has more than ten years' experience of working in wildlife conservation and has worked both in the UK and abroad.
At BlueSky Ecology we believe that the conservation of our wildlife is paramount for a happy, healthy society. We provide creative and innovative solutions that enable wildlife and development to co-exist.